8-Mile Yellowstone River Raft Trips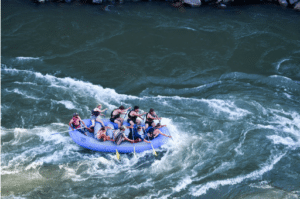 Experience the best rafting on the Yellowstone River with our half-day whitewater rafting adventures. Our spectacular 8-Mile Rafting Trip will take you down an exciting mix of class II and III rapids and is perfect for most ages and almost every experience level. You will spend 2 hours paddling down spectacular rapids like the Queen of the Waters, Rock Garden, Sleeping Giant, and more. In between rapids, enjoy the Rocky Mountains' spectacular beauty and keep your eyes peeled for wildlife. Flying Pig's half-day rafting trip is an experience unlike any other and is sure to be one of the highlights of your Yellowstone adventure. Come enjoy a half-day Yellowstone whitewater rafting experience with Flying Pig Adventures.
We equip you with any necessary gear and provide a safety briefing from your personal expert rafting guide. Our enthusiastic guides will join you on your trip down the river navigating you through the cold waters of the Yellowstone, ensuring everyone has the adventure of a lifetime. Every half-day rafting trip is designed with your adventurous spirit in mind, and we make the process easy for you, so you can enjoy every second of your heart-pumping paddling expedition! All you need to do is bring your friends and family, and we will make sure everyone has an unforgettable day.
Flying Pig offers 5 departure times daily and requires guests to check in 30 minutes prior to the start of your Montana whitewater excursion. Our half-day rafting trips run from May through September, and for those seeking a little more adventure, we recommend booking your trip earlier in the summer when snowmelt is at its peak, and the Yellowstone River is at its highest. Get ready to create memories that will last a lifetime with your premier rafting guide at Flying Pig Adventures Yellowstone White Water Rafting. Book your 8 Mile Rafting Trip Today!
WHAT OTHERS ARE SAYING ABOUT OUR TRIPS ON:
"My husband and I booked the one-hour horseback ride followed by an 8-mile river raft tour down the Yellowstone River. Both were Fantastic! The horseback ride offered gorgeous views and very easy well trained horses. We had Leen for the rafting guide, she was very fun and knowledgeable about the area, again stunning views of this gorgeous area, I would highly recommend both adventures." – 28jeannes
"We did the 8-mile raft trip with Baxter. He was great. It was fun and informative. I enjoyed hearing about what it was like to grow up in Gardiner. The raft is stable and he piloted it so that we had some whitewater and some easy floats. This was well worth the price and we'll do this again"
FAQs
WHAT DO WE WEAR HORSEBACK RIDING?
Long pants, closed-toe shoes. Every horse will also have a small saddle bag so you'll have minimal storage for things like a camera, water bottle and a light jacket. Please know that this trip will go rain or shine, unless the ranch determines that the trail conditions are too dangerous. If it's raining and the ride is still going, you will need to provide your own rain gear as the ranch does not have any for you to use.
WHAT DO WE WEAR WHITEWATER RAFTING?
Bathing suit, shorts, t-shirts; anything you're comfortable getting wet. Synthetic or quick-drying clothing is preferred over cotton. For your feet, we recommend a water shoe that secures around the ankle (no flip flops or Crocs). We also have river shoes available for your use, included in the price.
OTHER TRIPS YOU MIGHT LIKE: