The short answer is, any season!  The majesty of Yellowstone is all about nature's cycles so no matter what time of year you visit, there are ample things to witness and experience in America's oldest National Park.

The long answer, of course, depends on your priorities.

Winter, spring, summer, or fall, there's no shortage of jaw-dropping scenery, exposure to wildlife, geographical features and historical landmarks in and around Yellowstone. The key is getting specific about your wishlist. Are you hoping to see wolves in the winter, or bears in the spring? Rafting adventures and horseback rides in the summer, or biking and hiking in the fall?

At Flying Pig, we've been outfitting and onboarding Yellowstone travelers for over a decade, so we know our seasons! Here's a look at some highlights for each, no matter what you're up for.
WINTER
Yellowstone truly is a winter wonderland. Between November and March, the terrain is almost always blanketed in snow. It's a special time for visitors seeking solitude. Big skies and open back-country inspire awe and contemplation. Not everyone wants an action-packed vacation; there is nothing wrong with hunkering down in a warm lodge to enjoy peace and quiet or spend the holidays.

As the snow falls, only two of the five entrances to the Park remain open. Many roads are only accessible by snowmobile or guided tour travel. But in a sense, limited access advantageous to a more personal experience. For the best point of entry, aim north. The cozy town of Gardiner is a great place to find your home away from home during the winter. Located near the North Entrance of the Park, Gardiner is a favorite jumping off point for cross-country skiers, snowshoers, hot spring hunters and other winter sport enthusiasts. It also puts you close to sites like Lamar Valley and Mammoth Hot Springs; Hayden Valley is a snow coach distance away as well.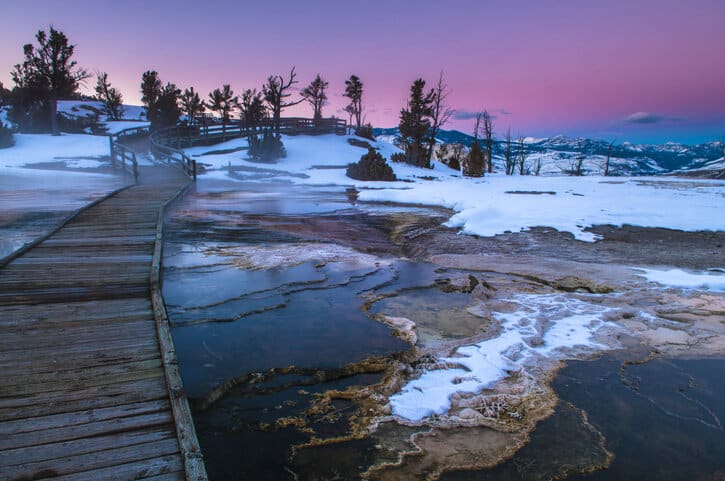 As the mountain-tops become less hospitable, wildlife make their way to lower elevations. Northern Yellowstone is one of the most sought after places on the planet to spot wolves in their natural habitat. Winter is primetime for getting a glimpse but there are no guarantees. To increase your chances, you may want to hire a local guide who is familiar with animal patterns and the best areas to scout them.

Above all, Yellowstone boasts the altitude, not attitude, of more popular winter vacation spots. If you want to avoid peak-season rates and long lines typical of ski resorts, it's a smart choice for a winter getaway. Crowds are scarce and availability for lodging is less competitive. And don't let the whiteness blind you. Activities, animals and adventure are there, just waiting for your arrival.

A scenic winter drive through Yellowstone National Park stands to challenge any summer road trip. Stay alert for elk, deer, bighorn sheep and bison as they make their way to lower elevations during the shorter days of the season.
SPRING
Visiting Yellowstone in the late spring is the chance to watch nature wake up from its long winter nap. While there is still potential for late winter weather conditions, including snowfall, spring has much to offer the novice and the seasoned Park visitor.

Roads usually open back up mid-April but the crowds are slow to follow, making spring and ideal season for travelers in search of minimal human contact. Bear in mind that the weather doesn't keep a schedule so plans are subject to prolonged closures and inaccessible areas.

Animals that spent the winter hibernating, start looking for food. Spring is opportune for spotting wolves, coyotes and bear scavenging for leftovers long buried in the snowmelt. Want to see grizzly bears? Yellowstone Lake is a notorious spot for sightings and the road opens come the first week of May. Keep watch during the early morning hours or around dusk.
SUMMER
For scenery and pictures, early summer is a landscape of enchantment. June is especially prime for amateur or avid photographers alike. Framing those still shots to include snow-capped mountains may not be possible, but the carpets of wildflowers and lush greenery of the valley, sprawling with cottonwoods and aspens are sure to keep the shutter clicking.

The water levels very much on snow melt. High or low, there's always good fishing in and around the area. Early risers get the first catch but if you sleep in, there's still plenty of activity to be found upstream. Yellowstone is a mecca for fly-fishing and whitewater rafting. Planning ahead is highly recommended. Fishing laws vary by locations and are subject to change with seasonal conditions. Make sure to consult an expert or Park Ranger before casting a line. Guided rafting trips get booked months or more in advance. And for good reason. The highlight of your trip may very well be navigating miles of rapids down pristine rivers surrounded by towering mountains and impressive rock formations.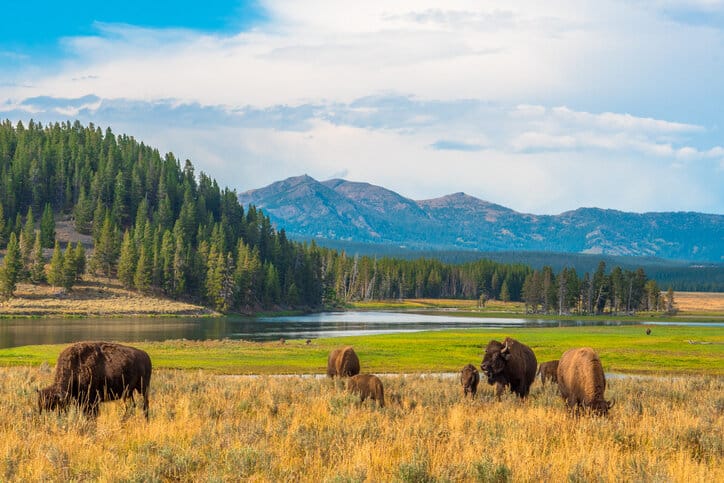 July and August are consistently warm. On average, daytime temperatures hold steady in the 70s and 80s.  If sunshine is part of your itinerary, a midsummer visit might be your best bet.

High tourist season creates a steady demand for accommodations, tours and options for visitors. That means there is more to choose from in the summer than at any other time of year!  Flying Pig offers a full spectrum of vacation packages between May and September, sure to satisfy the most discerning travelers whether they're seeking adventure or looking to "get away from it all."
FALL
Autumn is a drama of colors throughout Yellowstone National Park. Cool air carried in by the winds is balanced by many days of sunshine. When the sun sets, the stars take the stage and provide a brilliant show.

Fall is breeding season. Bison sightings ramp up as early as August. It's a real spectacle to watch the males face off with one another to claim dominance among their herd. A prelude to the sleepy months ahead of them, black bears are commonly sighted looking for food. Don't forget to look up. Fall is a great time to catch hawks migrating or an eagle crossing by in the sky above. The Hayden Valley is particularly prized for bird-watching.

Yellowstone Park boasts over 200 miles of trails. Hikers and backpackers love the season's not-too-hot, not-too-wet conditions for exploring them. The back-country on foot promises plenty to see even if barely wander from the trailhead.

November is a unique time for bikers. Sections of roads start to close in preparation for winter but remain open for cyclists, not to mention walkers and joggers. The dwindling season means fewer crowds at popular landmarks and attractions. Just make sure to check for road closures (and be willing to take a snow coach instead) to sites like Old Faithful if you're headed to the Park in late fall.

Flying Pig is here to help you plan your ultimate visit to Yellowstone! We love sharing our love and knowledge of the region with visitors like you. Our guides are vetted for their extensive knowledge, practical skills and unique abilities to connect with people in purposeful ways. Everything we offer is backed by the goal of making your time in and around Yellowstone as exciting or peaceful as you want it to be!