Wyoming is second to none when it comes to fishing, and it's no wonder anglers from around the world travel to cast lines across the state's pristine waters. Some of the state's best fishing can be found along the Shoshone River, on the fringes of Yellowstone National Park. The Shoshone River starts high in the Absaroka Range and snakes its way towards the plains carving its way through beautiful peaks and expansive valleys. Our partners at South Fork Outfitters have a one-of-a-kind camp located next to the beautiful Shoshone River. The camp offers anglers unobstructed views of the surrounding mountains and gives anglers easy access to one of the state's finest stretches of river. South Fork Outfitters is perfect for those looking to escape into the wilderness and experience the western lifestyle for a few days.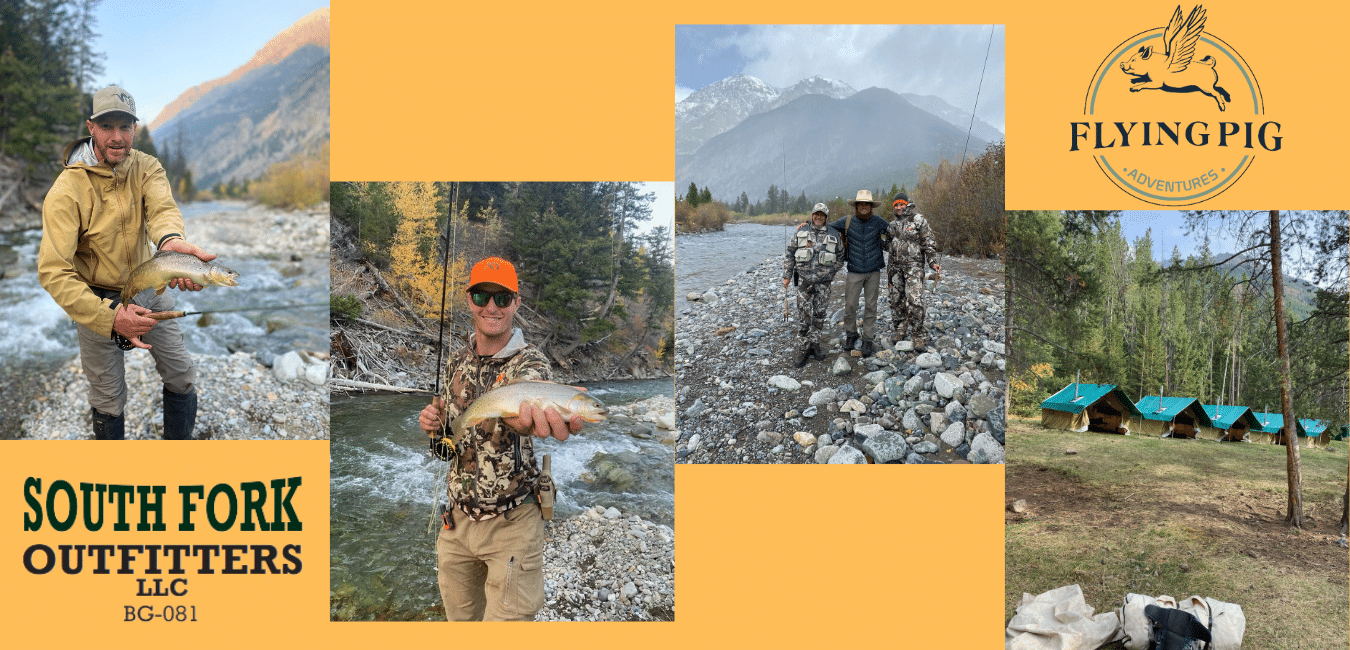 This camp located on the east side of Yellowstone National Park offers a one-of-a-kind fishing experience. The entrance into the camp features a 3-hour horse ride into some of the most stunning wilderness in the lower 48. The camp is based outside of Cody, Wyoming, and offers a wild west experience not found anywhere else. Once guests arrive by horseback at camp, they are greeted with top-of-the-line tents complete with flooring, wood stoves, and a hot water shower. While enjoying their stay, guests have easy access to the nearby Shoshone River featuring Yellowstone Cutthroat, Rainbows, Browns, Brookies, and Cuttbows. The Shoshone River is perfect for experienced anglers, along with those trying to improve their cast. Meals are provided and prepared by a chef 3 times a day in the large cooking and dining tent so guests can spend their time casting flies and enjoying the natural beauty that surrounds the camp.

South Fork Outfitters offers this trip in late summer from August through September, when dry flies are the favored pattern. These wilderness fishing trips are 5 days in total, with 2 days for travel and 3 full days of self-guided fishing in the Shoshone River. The camp can accommodate up to 12 per week and will offer an unforgettable experience to every guest.  Any fisherman with a little experience and respect for the wilderness will enjoy fishing with South Fork Outfitters.

If you are needing a little adventure in your Yellowstone trip, Flying Pig has the perfect lineup for you. We offer the best Yellowstone White Water Rafting, along with world-class horseback rides, flyfishing near Yellowstone National Park, Yellowstone vacation and park tours, comfortable lodging, and more. We have helped thousands of adventurers discover the Yellowstone area and are ready to help you make the most of this spectacular place we call home.