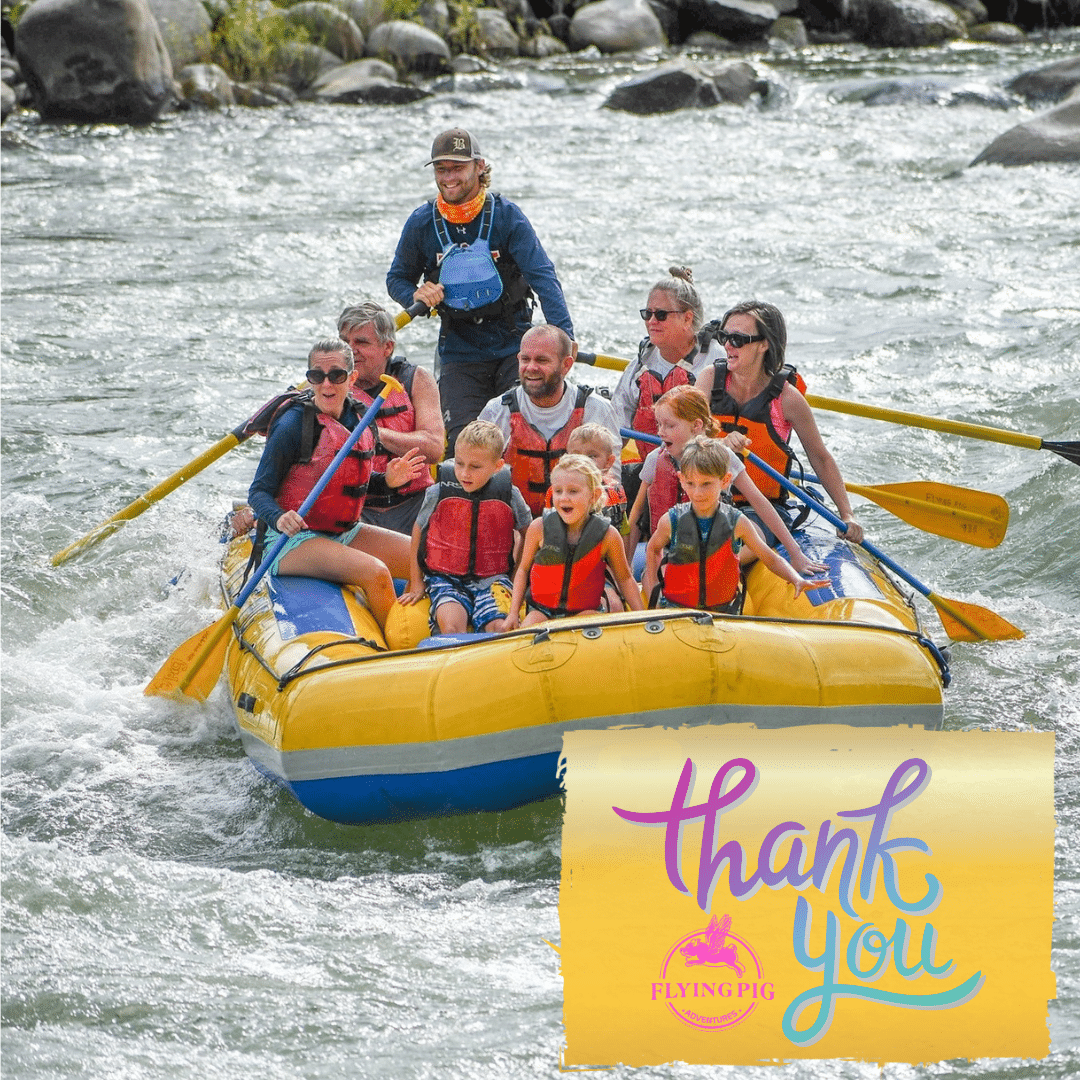 From all of us at Flying Pig Adventures, thank you for making the 2021 season one of our best ever! Our amazing guests make every adventure possible, and nothing makes our team happier than bringing smiles to every guest that walks through our doors. We take pride in everything we do, and we look forward to our next adventure with you. Whether it's floating down the Yellowstone River battling rapids, saddling up and discovering the great outdoors from a new perceptive, casting a line into the cool Montana waters, or taking a scenic Yellowstone tour with one of our guides, we love providing our guests an experience unlike any other. We are happy to call Yellowstone, one of the most beautiful and iconic natural places in the United States, our home.
Here at Flying Pig, we are proud to have the most enthusiastic, energetic, and caring staff in the business, and we owe it all to our amazing guests for allowing us to do what we love year after year. Without guests who share our love for the great outdoors and crave a sense of adventure, this wouldn't be possible. We are committed to providing our guests unforgettable memories with guides who are knowledgeable and have access to the best training to keep your adventures safe. Our shop's location provides direct access to the Yellowstone River and sits just minutes from Yellowstone National Park, making it the perfect headquarters for every adventure. Our trips provide an escape from the modern world and allow guests to forget their worries and soak in the beauty Montana has to offer.
There is something for everyone here at Flying Pig Adventure, and we look forward to seeing many of you for years to come. Whether you are looking for the best Yellowstone River Whitewater Rafting, one-of-a-kind horseback riding experience near Yellowstone National Park, or a fly fishing guide who knows every inch of the rivers found inside Yellowstone National Park, we have the perfect adventure waiting for you. We can help you find lodging through one of our partners, or if you are feeling extra adventurous, we have overnight adventures. Flying Pig offers overnight white water rafting trips leaving you with a one-of-a-kind way to experience the thrill of white water rafting. For those looking for a unique wild west experience, we suggest our overnight riding package. This will allow you and your family to camp out at our ranch near Yellowstone and enjoy hours of riding and a lifetime of memories.
Yellowstone is truly one of the most spectacular places in the world, and we believe no trip is complete without a visit to Flying Pig. It's never too early to start planning your next trip to Flying Pig Adventures, and we hope to help make your next trip unforgettable. If we didn't have the opportunity to see you this year, we hope you can join us next season! Contact us today, and we will help get your trip of a lifetime in the books.