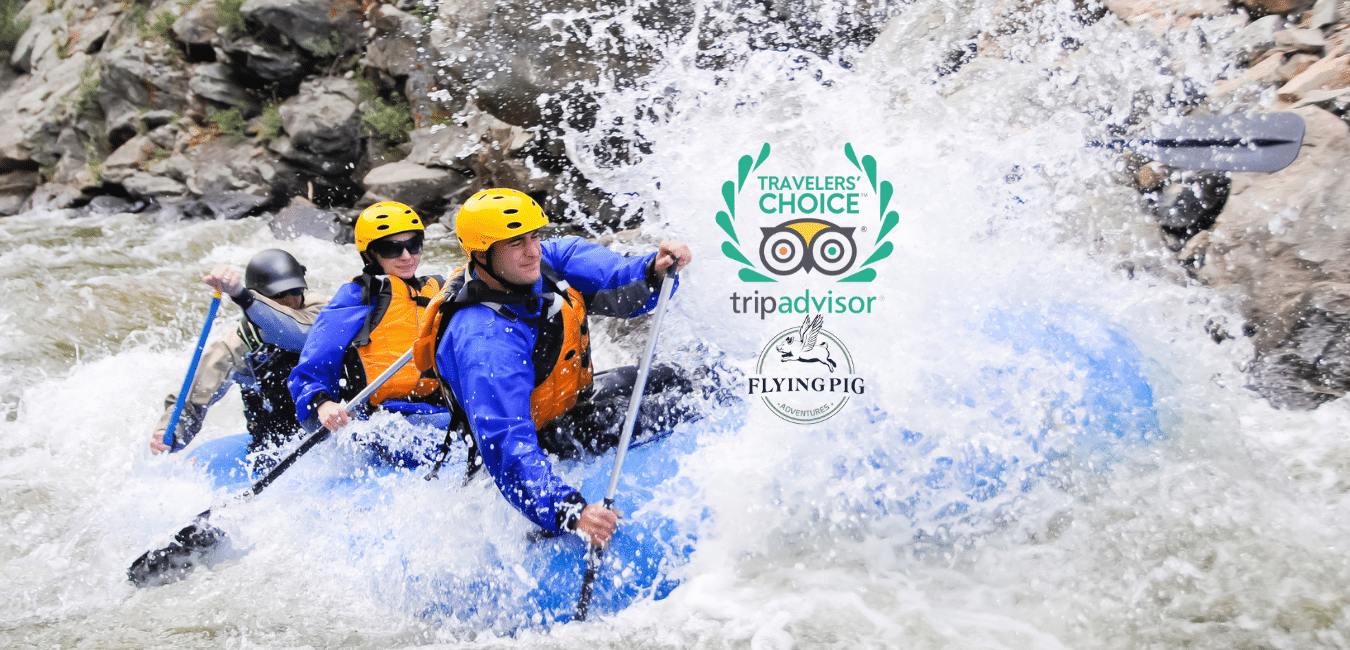 The results are in, and Flying Pig Adventures has secured a 2020 Tripadvisor Travelers' Choice Award for outstanding customer reviews! Every year, Tripadvisor recognizes accommodations, attractions, and restaurants that take the customer experience to the next level and accumulate numerous top tier recommendations from their customers and guests. In 2020, Flying Pig Adventures has not only surpassed all competitors by the total number of reviews, but we have also been ranked by Tripadvisor to be in the top 10% of properties. As a team, we are beyond honored to be recognized for this great accomplishment and wish to extend a sincere thank you to all of the families, couples, friends, and solo travelers who have joined us on Yellowstone white water rafting adventures this year. Your positive experiences have helped us shape the tours that we offer, and we are grateful that you gave us the chance to make your Yellowstone vacation tours extra special.
WHAT THIS MEANS FOR FLYING PIG ADVENTURES
A rating like this can help us to enhance our Yellowstone white water rafting tours and assist with the creation of unique packages that help more families experience the wonders of Yellowstone. As our guests know, whitewater rafting in Gardiner, MT give thrills unlike any other, and your contribution will lead others to make unforgettable memories against these scenic backdrops. Many of your reviews mention our unparalleled horseback rides as well, and this Travelers' Choice Award will encourage many others to hop atop a trusty steed and enjoy horseback riding by Yellowstone Park in one of the most majestic places in the country. We'll continue to offer our signature Yellowstone tour packages including Gardiner, MT fly fishing, Yellowstone park tours, horseback rides, and whitewater rafting on the Yellowstone River in Montana in the 2021 season, and can't wait to make your experience one for the books.

Flying Pig Adventure Company in Montana has some of the most thrilling, unique, and truly unforgettable experiences that you could have built into your Yellowstone tour packages. As our customers can attest, the joy of seeing Yellowstone from the water opens up another world of exploration that can only be obtained alongside a Flying Pig Adventures guide, and we can't wait for the 2021 season to begin. As you enter vacation planning mode for the new year, be sure to consider the idea of flyfishing in Yellowstone National Park, as well as white water rafting and horseback riding combinations that will enable you to witness the true magic of nature from a new perspective.

When planning your next vacation, you'll see our 2020 Travelers' Choice Award badge on our Tripadvisor profile and we invite you to see what our guests have to say about us. Like you, they crave an adventure and have looked to Flying Pig Adventures to show them what America's backyard really looks like. When you're ready to take a break from the world and spend some time with the planet, we'll have the raft ready. Book your adventure now and we'll see you in the park!